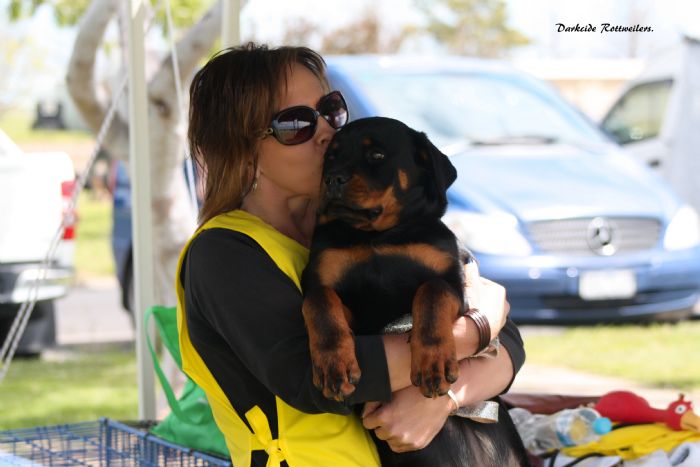 Welcome to my place on the web.
My name is Joanne and I have had the privilege of having Rottweilers in my life since 1979 as Rottweilers were my parents chosen breed. That first Rottweiler came from Mr & Mrs Vance who bred under the "Vanglen" Prefix. Although I was only a little girl at that time I knew that this new dog was pretty special, he was very sure of himself, highly intelligent, noble, loyal, strong and up for anything. That love affair with the Rottweiler is still going strong today. Darkcide has produced Australin Champion showdogs & V-rated (excellent) dogs under Rottweiler Specialty judges from Australia and Overseas.

Darkcide is registered with the Australian National Kennel Council (ANKC). I abide by the National Rottweiler Council (Aust) NRC(A) requirements and Code of Ethics, as well as those of Dogs Victoria. I am a member of the Rottweiler Club of Victoria, Dogs Victoria, Bendigo Kennel club & Eaglehawk Kennel club.

Here at Darkcide we aim to breed Dogs with correct temperaments, correct construction, true to type with willingness to work. A Rottweiler should be confident within himself BUT should also be very gentle when need be. Temperament will always be foremost here at Darkcide. Our breeding females only have 1 or 2 litters in their lifetime, we have never re-homed a breeding bitch once we have bred with them, they stay with us or their families for their lifetime.
OUR PUPPIES GO TO THEIR NEW HOMES ON A LIMITED PEDIGREE ONLY.

I enjoy exhibiting my dogs at Rottweiler Specialty shows all over Australia under Rottweiler Specialist judges from around the World.

My puppies are raised in a loving family environment with lots of cuddles & kisses from my family & my friends.

Only the best of homes are selected for my puppies as they need to be adored by their new owners as much as we adore them.

So welcome to my place on the Web, I hope you enjoy your visit and if you do, Please remember to sign My Visitors book.


***If you are looking for a new family member, Please make sure that the Breeder you choose is a member of any state Breed club as these Breeders have to follow a strict code of ethics enforced by these clubs when Breeding***

we are now testing all our Dogs for JLPP (Juvenile Laryngeal Paralysis & Polyneuropathy)

It came to me that everytime I lose a dog they take a piece of my heart with them. And every new dog who comes into my life gifts me with a piece of their heart. If i live long enough, all the components of my heart will be Dog, And I will become as generous and loving as they are. Author-Unknown.
Contact Details
Joanne Swanson
North West Country Victoria, VIC, Australia
Phone : 0401206680
Email :
[email protected]
158772 Visitors